We Would Like You To Meet Our Shop Manager, Donny Shoemaker.
Would You Like To Introduce Yourself?
I'm Donny Shoemaker, Shop Manager here at Mike's Trucking.
I take care of the overall maintenance and repair of all the equipment here.
How Long Have You Been With Mike's Trucking?
5 years. It has probably been the best 5 years, professional wise, that I've had. They've been very good.
What Do You Think Makes Mike's Trucking Stand Out From Other Trucking Companies In Central Ohio?
Other trucking companies see our trucks and they are new trucks. But it is not just our new trucks that make us stand out, it is the fact that we can diversify everything we do. We haul everything from bulk cement to manure, gravel, and sand.
So that is what makes us stand out, it is our diversity in being able to help out any customer that comes to us and supply them with all their needs.
Since You've Started At Mike's Trucking What Do You Think Has Improved?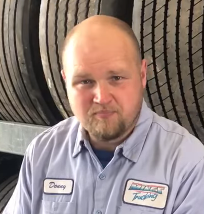 One thing that sticks out to me is our overall appearance. When I first started we had some new trucks but not very many. And now we have all new trucks.
You drive by the yard and you can see that we really made over the place. We added gravel in the parking lot and we really added a lot to the materials store. We've really been able to keep up with the supply and the demand for everybody and that is what has changed the most, in my opinion, in the last 5 years.
Where Do You Think Mike's Trucking Will Be In The Next 10 years?
In the next 10 years, I think it is going to be above status quo. I think we are just going to keep moving forward and keep setting the bar for our industry and just keep on keeping on.
Thank you for visiting our site and meeting our shop manager!
---