Mike's Trucking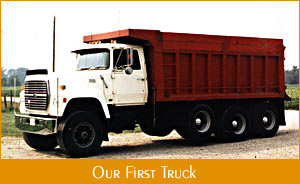 Michael Culbertson established Mike's Trucking LTD, an intrastate company in 1984. He began his operation with a single dump truck. To meet customer demands, Mike expanded his fleet. In 1999 Mike became an interstate company and is licensed in 48 states and Canada. Over the years he expanded his fleet and the company owns/operates 40 trucks including a small fleet of Brokers.
Mike attributes his success to multi-tasking, watchful and responsible care of employees, and diversification. Mike has a highly trained and efficient staff of transportation personnel with a wide range of dispatching, marketing, accounting, driving, and human resources skills. His dump trucks range in legal hauling capacity of twelve ton to twenty five ton. Each tractor is equipped to utilize a dump, van, or flat bed trailer.
Mike's Trucking LTD, takes great pride in its long term relationships with companies.
Mike's Trucking is a participant in Ohio Workman's Compensation and maintains adequate insurance.

This Fleet Promotes Good Causes with Vinyl Graphics
Blog commentary by Tom Berg, Senior Contributing Editor
September 29, 2017
Finding a cure for breast cancer is one of the causes promoted by Mike Culbertson's materials-hauling rigs. Vantage end-dump displays a pink ribbon and Kenworth T680 tractor wears the special pink hue.  Photos: Tom Berg
Look at the graphics on that dump trailer! That's rather unusual for that kind of vehicle, but you'll see it and others if you live near Columbus, Ohio, where Mike's Trucking operates.
Mike Culbertson, founder of the materials-hauling fleet, identifies his company with a snappy pink, teal, and white logo, and in the last 10 years has applied advertising and theme designs to some of his aluminum dump trailers and truck bodies.
"I've done a flowing American flag, a POW-MIA, autism [awareness], and the fight for a breast cancer cure," Culbertson said during HDT's visit on a recent Saturday morning.
Out on a large dirt lot, from a line of rigs parked for the weekend, he pulled a pink Kenworth tractor and Vantage end-dump trailer decorated with a big "Find The Cure" pink ribbon on either side; nearby sat other trailers carrying ads for a group of auto dealers, a John Deere implement dealer, and a radio station. Two new dump trucks sport graphics for another cancer campaign.
Except for the cost of producing and applying the wraps, the ads produce monthly revenue that goes to his company's bottom line. The radio station gives him reduced rates for his own commercials promoting his trucking service. The theme work he did out of patriotism and to support research efforts to find cures for the afflictions. He noted that several female friends have had breast cancer.
Culbertson collaborated on this "fight for the cure" design for a new Allfab aluminum dump body aboard a Peterbilt 567 chassis.  
Route 40 Signs in Springfield collaborates on the designs, then produces and applies the vinyl wraps, according to Ryan Lee, a principal at the business. Mike's Trucking has been a regular customer for about five years, so gets a discount from the usual $2,000 to $3,000 price for such a wrap. "Most of that is for producing it," Lee said. Application takes about a day, and they can later be quickly removed and surfaces prepared for newer vinyl graphics.
Like other fledgling operators, Culbertson began with one truck and expanded to where he now has 50 power units and 60 trailers, and brokers loads for 15 owner-operators. He overcame a reading disability to survive the rigors of business. Three children are now involved and, together with "many good employees," the company is doing well.
He has some flatbeds and asphalt tankers, but most trailers are aluminum end dumps, primarily made by Vantage, a Texas manufacturer he praises for providing excellent support for any maintenance or technical problems. He hauls sand, gravel, crushed stone, mulch and dirt, for which the lightweight aluminum trailers and bodies work well.
Culbertson overcame a reading disability to survive the rigors of business. Three children are now involved and, together with "many good employees," the company is doing well.
Mike still drives on occasion – "I love it" — but looking back at his 33 years in business, he succinctly summed up another key to success: "I have worked very, very hard, and when I work I go, go, go."
Posted @ Friday, September 29, 2017 11:06 AM